The recent most hyped talk of the WordPress Community, Walk To WordCamp Europe, is raising a great buzz.
Apparently, Marcel Bootsman announced that he is going to Walk To WordCamp Europe, Berlin 2019, from his hometown Berkel en Rodenrijs, Holland. Yes, he will literally walk a distance of about 736 km!!!
Last June, Marcel twitted the following:

That was the start, and no one really knew where this idea was going. However, as Marcel proceeded with his long foreseen plan, we all realized he is actually making a huge contribution to the WordPress community.
Who is Marcel Bootsman?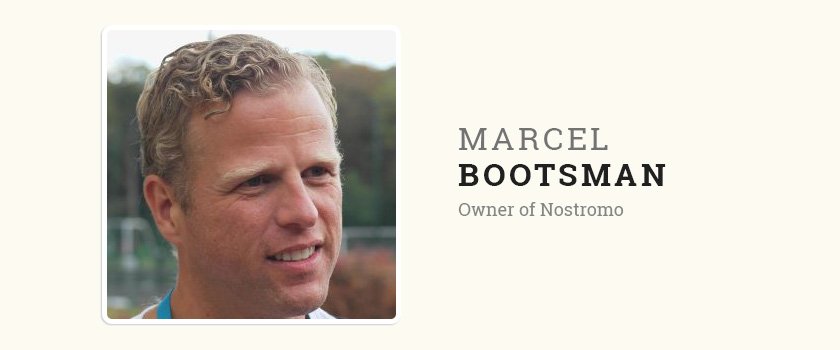 If you are active in social media regarding WordPress, you probably already know him. Marcel is the founder of Nostromo, a renounced WordPress agency.
Marcel thus far, has made tons of contributions to the WordPress community, including organizing WordCamp, arranging WordPress meet-ups, and delivering valuable speeches in several WordPress events all over the world.
Being a role model in the community, Marcel is getting immense support for his latest contribution plan, Walk to WordCamp Europe.
Why is Walk To WordCamp so Important?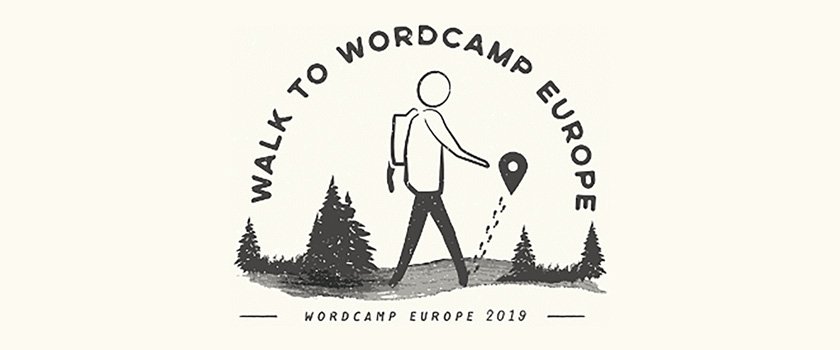 Over the past few months, Marcel made it clear, his true goal. His main intentions are to raise funds for DonateWC.
DonateWC is an amazing foundation created to help valuable contributors of the WordPress community, who cannot afford to travel long distances due to a financial deficit, to be able to attend and contribute to WordCamps.
Marcel took a big step and took this amazing initiative to raise funds for DonateWC and help them to succeed with their great cause.
According to Marcel:
"Not everybody has the financial means to go to a WordCamp or has support from their employers… And those people can be of big value to the WordPress community. So we want those people to go to WordCamps anyway. And we need money for that. And that is why I'm walking 730km to Berlin, to raise money…"
DonateWC and Walk2WCEU

According to the founder of DonateWC, Ines Van Essen:
"WordCamps became unintentionally exclusive of the poor and less fortunate. That should change."
When asked how Marcel and DonateWC came to such collaboration, Ines said:
"Marcel has always been a very community-oriented contributor and a supporter of DonateWC. When he decided to take his Walk To WCEU, he offered to donate the proceeds to our foundation."
Ines has always been visionary about the WordPress community which led to the founding of DonateWC. And now she is proud of Marcel to take this spectacular initiative:
"I think it's amazing, of course! To put so much effort into helping to get others to WordPress related events is amazing. I hope this will motivate others to do similar things – perhaps not at this scale, but every bit helps."
Hopefully, this effort by Marcel might help get more attention from the WordPress community, who may consider making regular contributions to DonateWC.
All about the Walk to WordCamp Europe
Marcel has created a fundraiser website: https://walktowc.eu/
Marcel expects to raise a total of 6000euros. His main aim is to get enough funds for DonateWC to be able to aid at least 3 WordPress pioneers. The ones who don't have enough available funds, to attend WordCamp Europe at Berlin.
Plus, Marcel would want a little fund to keep his own company, Nostromo, running properly, while he is away on the journey.
Hence, he is expecting sponsors from all over the world, to contribute to his noble cause. If you wish to sponsor Marcel Bootsman on his amazing initiative, please reach out to Marcel or visit the website: https://walktowc.eu/
Plans & Preparations
As we speak, Marcel is training himself to be able to pull off this ardent task.
As per his plans, he wishes to start his journey on May 19th, 2019, and walk around 30km a day, to reach WordCamp Europe within a month, on June 19th, 2019.
This is a daunting attempt to make a significant impact and set an example of his passion for the WordPress community.
He will be walking through several towns of Holland, and then through many towns in Germany, and eventually reach Berlin.
You can follow the route here:
https://walktowc.eu/route/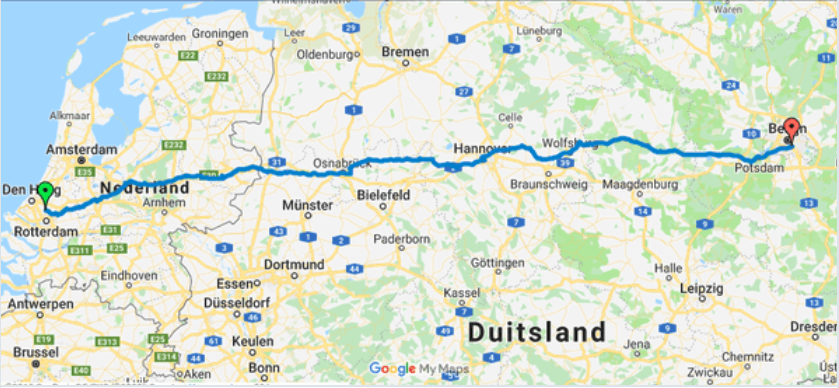 Marcel will also need help on his way to Berlin, with places to spend the night. Hence, if any of you live around his route, feel free to reach out a helping hand and let Marcel reside at your place for a night during his journey.
So far Marcel has managed to raise over 1500euros through several donations and generous sponsors. Large firms such as Kinsta, CodeRex, Raidboxes, FastComet, and Vevida made major contributions as sponsors to help Marcel get closer to achieving his goal with his brilliant effort.

Several large online media for WordPress such as WPTavern, Torque, WPLounge, t3n Digital Pioneers, GiveWP, MasterWP and many more are contributing by featuring the story of Marcel's journey. Even a local Dutch newspaper, De Heraut, featured his story: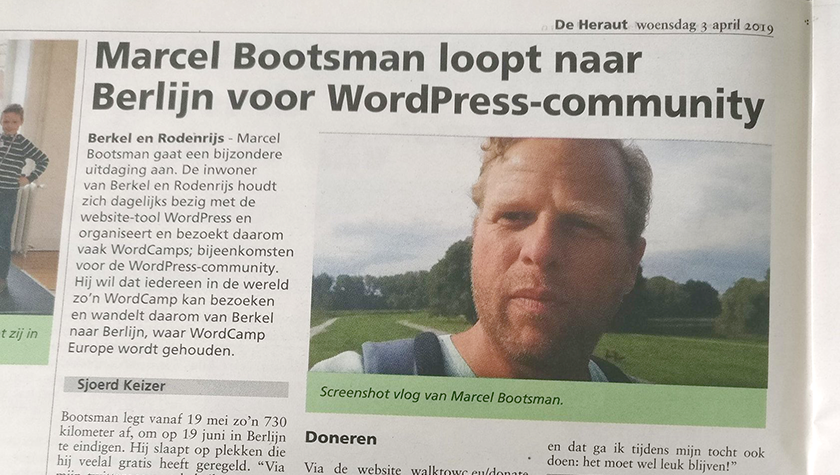 Hopefully, by end of April, the WordPress community will reach out and help Marcel reach his goal with the funds and make Walk To WordCamp a successful effort.
Let Us Support Marcel All The Way For Walk To WordCamp
Ines, the founder of DonateWC, wants to express her appreciation and reach out to the whole WordPress community with her message:
"If you feel like you can skip a Starbucks coffee for today, please consider donating the money you saved to Marcel's adventure. You will not only make him and the people behind DonateWC very happy, but you'll also help get someone to the WordCamp of their dreams!"
And likewise, Marcel is simply asking for support to help him succeed with his great cause. He recently twitted with his own extra contribution: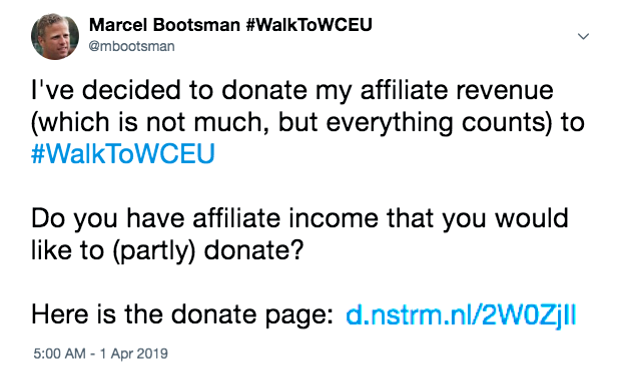 This just shows how determined he is to pull off a successful effort. Hence, wherever you are, if possible, make a small contribution and make a difference.
Donate here:
https://walktowc.eu/donate/
Update: Donation closed
Hopefully, Marcel's effort will be an eye-opener to the whole WordPress community and will help to spread the influence of WordPress even more, all over the world. See you at WordCamp Europe, everyone!!!
Update
Marcel has successfully completed his Walk To WordCamp campaign and managed to gather over 8000 Euros. Thanks to the great help from several generous WordPress contributors.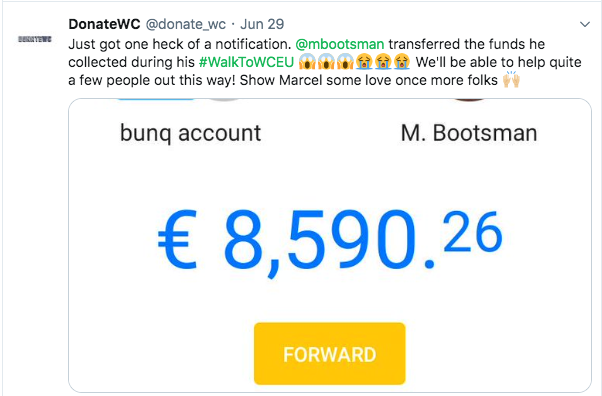 Marcel donated all the money to DonateWC right after WordCamp Europe 2019.
Thus Walk To WordCamp was successful by a great margin. Hope we will see more such generous effort to help the WordPress community grow.